Transguard Group Goes Pink for October
Transguard Group is utilising a pink bus to spread awareness for Breast Cancer Awareness Month
Have you seen a pink bus driving around Dubai? Transguard Group, the country's leading business support and outsourcing provider, is marking Breast Cancer Awareness month by wrapping one of its transport buses pink and driving it around Dubai to spread awareness about the health campaign.
"As an employer of 70,000+, our employees' health and wellbeing is of the utmost importance to us, which is why we offer a steady rotation of wellbeing programmes in both our accommodations and headquarters," said Greg Ward, Managing Director, Transguard Group. "With an awareness drive in both our male and female accommodations, as well as a number of specific activations for the women of Transguard, we're doing our part to educate all of our employees on the importance of early detection, prevention and treatment of breast cancer."
In addition to the pink bus, Transguard Group is holding internal educational awareness sessions for its headquarters and site-based employees throughout the month of October to highlight the initiative. These "Pink Parties" include awareness sessions paired with a comedy-movie night at Transguard's offices and accommodations; the pink bus will also carry volunteer doctors from Al Madallah, Aster Clinic, AXA, Medeor Hospital, NMC Hospital, Dr Sulaiman Al Habib Hospital and Zulekha Hospital to each event, where awareness sessions and health screens will round off the evening.
"While health awareness sessions on a variety of topics are regularly on offer throughout our accommodations and offices, this month we wanted to spread awareness not only among Transguard employees, but also among the people of Dubai," said Lena ter Laare, Director, Marketing and Corporate Social Responsibility. "Breast cancer can be an uncomfortable subject to discuss, particularly in this region and especially among our mostly male workforce. By transforming one of our regular buses into a pink conversation starter, we're hoping to trigger important health discussions between husbands and wives, sons and mothers, and brothers and sisters – within our company and on the roads of the emirate we call home."
The campaign will also be regularly featured on Transguard's social media handles with the hashtag #tgpinkbus.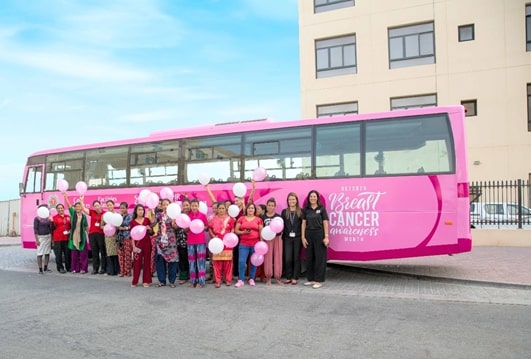 The bus will make stops at Transguard's headquarters offices and accommodations in Dubai.